Vol. 5, No. 1 (2009): 119–121.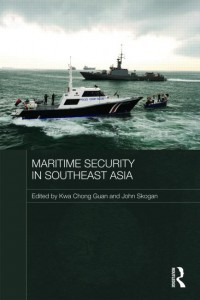 Maritime Security in Southeast Asia.  Edited by Kwa Chong Guan and John K. Skogan. London and New York: Routledge, Regional Security in Asia Series, 2007. i–xiii. pp. 224. Contents, Notes on contributors, Preface, List of abbreviations, Bibliography, Index. Review by Ramses Amer.
Excerpt
This edited volume deals with issues and dimensions related to maritime security in Southeast Asia. This is of considerable interest and relevance both from scholarly and policy-making perspectives. The contributors are scholars based in Southeast Asia and a limited number of European based scholars. The volume is the end product of a two-workshop process.
Download