Vol. 9, No. 1 (2013): 161–166.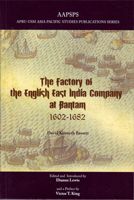 The Factory of the English East India Company at Bantam, 1602–1682. David Kenneth Bassett. Edited and Introduced by Dianne Lewis and a Preface by Victor King. Review by Barbara Watson Andaya.
Excerpt
David Kenneth Bassett (1931–1989) spent several years teaching at the University of Malaya (which was then in Singapore), and at the same institution following its relocation to Kuala Lumpur. In 1965 he was appointed to the faculty of the University of Hull, where he served as Director of the Centre for South-East Asian Studies until 1988, a year before his premature death in 1989 at the age of 59. Bassett's career thus spans a formative period in Southeast Asian studies. In 1950, a Department of Southeast Asian History was established in the School of Oriental and African Studies (SOAS) in London, and two years later Bassett entered the programme as a doctoral candidate. His dissertation, "The Factory of the East India Company at Bantam 1602–1682," was submitted in 1955, the same year that D.G.E. Hall published his History of South-East Asia, which represents the first attempt at a regional coverage. As one of the early SOAS graduates, Bassett was a pioneer in the embryonic field of Southeast Asian studies, continuing on to become a world-renowned specialist on European trade in the Malay world in the seventeenth and eighteenth centuries.
Download