On 16 March 2011, the Asia-Pacific Research Unit (APRU) welcomed Professor Gayl Ness to give a talk in the School of Humanities, USM.
Professor Ness is professor emeritus of Sociology at the University of Michigan and visiting professor in the School of Social Sciences, USM. He began work in Malaysia in 1961 under a post-doctoral research grant and has followed Malaysian development since. This resulted in "Bureaucracy and Rural Development in Malaysia 1968." He now works broadly in the field of Population Growth, Economic Development and Environmental Impacts, focusing his work on Asia.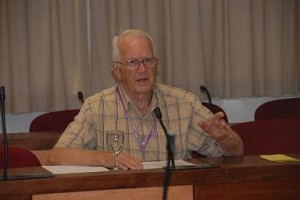 In his talk, "Reflections on the First Generation of Malaysian Leadership and a Reassessment of May 1969," Professor Ness shared his thought and his first hand experience of observing the work of the the late Tun Abdul Razak  during the latter's time as the Prime Minister.
Five major points have been presented in this lively talk, namely:
The rise of ethnic politics and the happy occurrence of the Alliance
The relationship between Prime Minister Tunku Abdul Rahman and his deputy, Tun Abdul Razak
The extraordinary work of building a new independent government that mostly owed to the skill, diligence and vision or Tun Razak
The impact of Konfrontasi on Malaysia's leadership team
Reassessment of 13 May 1969
We are grateful with Prof. Ness' presence to share his wealth of experience, knowledge and wisdom. We look ahead to get acquainted again!
Note: Photos courtesy of the School of Humanities, Universiti Sains Malaysia.