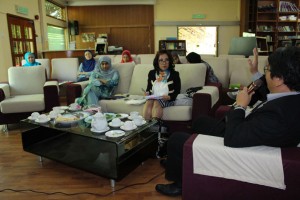 On 19 January 2016, Penerbit Universiti Sains Malaysia (USM Press) and International Journal of Asia Pacific Studies (IJAPS) welcome a visit by Associate Professor Dr. Ploysri Porananond from University of Chiang Mai, Thailand.
The purpose of the visit by Assoc. Prof. Porananond was to take a closer look at how journals published by USM Press are managed, particularly IJAPS. The sharing session was held in the Taman Buku (Book Garden), the USM Press' book showroom.
Professor Ooi Keat Gin, Editor-in-Chief of IJAPS shared his hands-on experience running IJAPS as an e-journal since its inception in 2005. From a modest set up, the journal has undergone a steady phase of growth, and today has become a noticeable presence in the field of scholarly publishing, especially in the humanities field.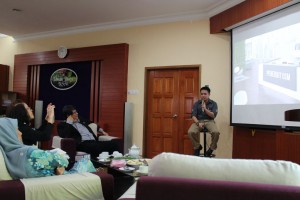 Zulkifli Musa, a Publications Officer who runs IJAPS daily show, also disclosed a number of tips in continually growing a journal through prudent management approach, good engagement with stakeholders (editorial board members, authors, etc.) and application of technology to enhance content visibility and discoverability.
A well-run academic journal is driven by, among others, clear vision and mission, chief editor's stature, content quality, strength of editorial team and international diversity. A journal wishing to go far must also continually embrace the changing dynamic of the scholarly publishing, adapting to changes through innovation and creativity.
USM Press currently publishes fifteen journals, with more coming under its purview. Four journals are now being indexed in the Web of Science (WoS), and ten are in Scopus.
We thank Assoc. Prof. Dr. Ploysri Porananond for her visit to USM Press.