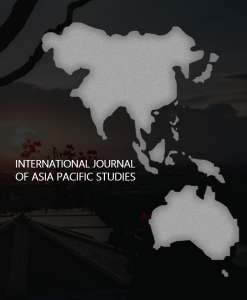 The International Journal of Asia Pacific Studies, IJAPS (ISSN 1823-6243) is an award-winning electronic journal (e-journal) published by Penerbit Universiti Sains Malaysia (USM Press), designed towards fulfilling one of the principal missions of the Asia Pacific Research Unit (APRU) of the School of Humanities, Universiti Sains Malaysia, namely the dissemination of academic research and other scholarly works.
With all its inherent advantages, an e-journal serves as the best vehicle to carry IJAPS to the forefront of the global scholarly community.
IJAPS is a scholarly, multidisciplinary, internationally refereed publication focusing primarily on Asia (West, South, Southeast and East), Australasia and the Pacific Rim regions of the Americas (North, Central and South). The disciplines of interest encompass politics, history, indigenous languages and literature, religion, man and the environment, ethno-history, anthropology, cultural heritage, social issues, economic development, war and conflict resolution, prehistory and archaeology, and the arts.
Indexing Databases
Published biannually, the Journal is indexed in Scopus, Web of Science's Emerging Sources Citation Index (ESCI),  EBSCO, Directory of Open Access Journals (DOAJ), Genamics JournalSeek, Southeast Asian Serials Index (SASI), Bibliography of Asian Studies (BAS), Asian Education Index, ASEAN Citation Index (ACI), Malaysian Citation Index (MyCite) and Google Scholar, and is ranked in the Excellence in Research Australia (ERA) by Australian Research Council (ARC).
Awards
IJAPS is a recipient of the CRÈME (previously CREAM) Awards by the Ministry of Education Malaysia in 2015, 2016 and 2019.